Sally – Sharper Millinery
Creating hats and headpieces, is Sally's vocation and she has experimented with colours and fabrics since a young age.
She owns up to being a 'bit of a magpie', as she loves collecting vintage jewellery, sumptuous fabrics and delicate trims, giving her the opportunity to create something truly unique; whether it's for a bridal veil, a special occasion hat or a racing headpiece.
Her hats and headpieces have been worn by elegant ladies at the races, scooping the prizes for Best Dressed Lady and Best Hat, by the Lady Mayoress of Birmingham, for her inauguration and by many mothers of the bride or groom for their special day.
She is always ready for a new challenge and likes to keep up to date with the current fashion and colour trends for each season.
So if you fancy something fabulous to finish off your outfit, or if you are looking to turn heads you've definitely come to the right person!
She would love to create something for your special day, whether it be a large tilt brim hat, a vintage top hat, a 50's influenced birdcage or a cocktail percher… anything goes!

Having won several top awards for her millinery, she is ever progressing within the wedding and craft industries; awards have included: Best Regional Accessory in The Wedding Industry Awards 2012 Silver Award in Craft & Design Selected 2012/16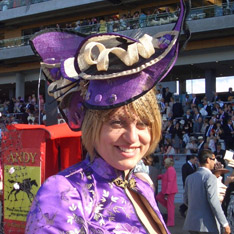 Each person has the opportunity to be involved from the beginning; influencing the design, choosing the fabrics and trims and ensuring that the finished piece is truly unique to the wearer.